The Dark Queen's Shadow
Welcome to "A Wicked Smile," the TFL-listed fanlisting for Kuroki Mio, that venomously vile vixen from Pretty Guardian Sailor Moon! Love Mio? Then join!
Site Stats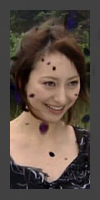 Last updated: May 09, 2013
Member count: 44
Pending members: 0
Owner: Lisa
Adopted from: Lizzie
Original owner: Neeko
Latest Update
One new member: welcome to Anton!
Disclaimer & Etc.
Kuroki Mio and all other characters, situations, etc., dealing with Pretty Guardian Sailor Moon are property of Naoko Takeuchi and Toei. I'm not affiliated with them in any way, and I am making no money off this website; it is purely fan-based.